WHAT SKYDIVERS SAY
With the addition of winds aloft report for the selected airport/drop zone this ap has improved greatly. Developer is willing and eager to take suggestions too! A big plus. Latest updates are great. I like the ability to switch weather stations. This app has really grown since it started. My latest discovery: If your DZ isn't on the app that doesn't mean it can't be! Add it yourself! I really do like the continued development of this product. I also saw that they will have a WEB based version for the DZ. Great idea. Great tool.
Tilghman Smith
Pretty cool Gives student skydivers a better idea about how landing patterns change with current wind conditions, allowing Google maps satellite-view to help set up targets for each leg of the landing pattern. (At least that's how I use it.) Plus there's a cool weather feature with winds aloft and cloud ceilings.
Jonathan Reyes
The best The new cutaway finder almost makes me want to chop one to see how it works. Almost.
Victor Howard
Great app, worth it for the landing pattern tool alone.
Eric Breeden
WHO IS BEHIND
Spot Assist is a single person project, though lot of instructors and students are a part of where it is headed.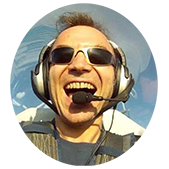 Our Latest Articles
We describe how the app works, how and where does it get the weather, insights about exit points and canopy piloting